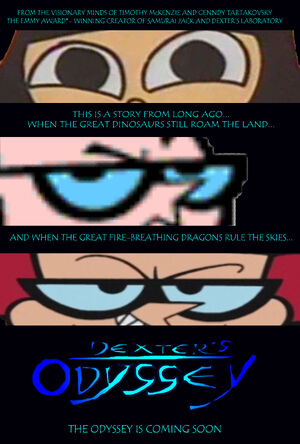 Dexter's Odyssey is one of Timothy's many ideas for a movie, and the one he's spent the most time on, being in the works since 2006.
Production
Edit
This film has had a long history in development, with it popping up as far back as 2006.
2006 Version
Edit
Main article: Dexter's Odyssey/2006 Version
The earliest known version was posted on what was (for many) the first time they found Timbox, the ToonZone.net forums. At this point, he envisioned the movie as a trilogy, with a complicated mythology and an inexplicable crossover with the Powerpuff Girls.
2008 Version
Edit
Main article: Dexter's Odyssey/2008 Version
This version was told on Blogger in mid-2008. By this time, he had expanded the series from 3 movies to 12.
The film was originally a trilogy,[1] before he expanded it to a 12-movie series, then paring it down again to just one movie.
At one point, he wanted to insert characters from the films The Ant Bully, Surf's Up, and the 2005 King Kong remake into the movie.[2]
One idea was that the film would have a framing device, involving film students finding a 12-hour workprint of the film, which was (according to Tim) abandoned on September 11th.[3]
Tim once had the idea of making his 2006 version into a game, as a thread on the Criterion boards once showed.
The plot in 2006 is considered the more complete, as the internet has never seen a "full" version aside from the 2006 idea.
References
Edit