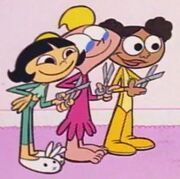 Thread: Do you remember Dee Dee's friends, Lee Lee and Mee Mee from the Cartoon Network Show, Dexter's Laboratory?
Date: August 1, 2011 at 3:12pm (Fanpop)
Opening post
Edit
Well, Do you miss them? What did they look like and what are their ethnic backgrounds? And do you recall any episode(s) and/or part(s) that involves Dee Dee and/or her friends, Mee Mee and Lee Lee in Dexter's Lab? What are your memories of Lee Lee and Mee Mee, if you have any? 
External Links
Edit
Ad blocker interference detected!
Wikia is a free-to-use site that makes money from advertising. We have a modified experience for viewers using ad blockers

Wikia is not accessible if you've made further modifications. Remove the custom ad blocker rule(s) and the page will load as expected.